Ghosts & Monsters
A downloadable game for Windows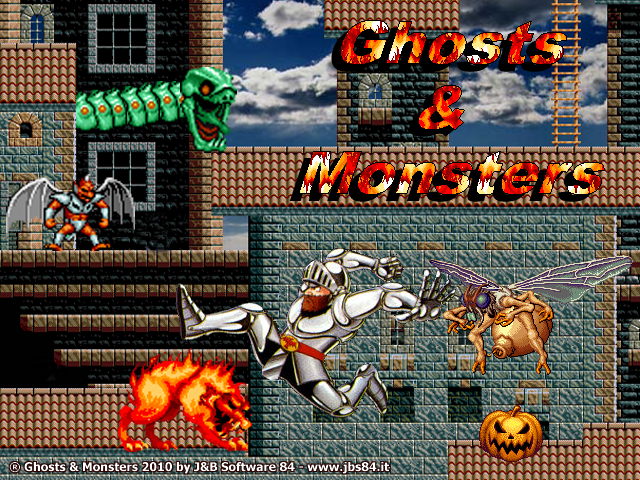 The game.
Ghosts & Monsters, as you may have guessed, is partly a clone of other games, including the unforgettable Ghosts'n Goblins of the years ' 80, this time our hero is not kidnapped the girl, but is simply willing to make a clean sweep of all those monsters scattered around the various worlds that oppress people.
To move our hero will use the cursor keys:
LEFT/RIGHT = move on our hero to the left or right.
UP/DOWN = If our hero is on a scale, rising and falling, or jumping. Down key cowers can always throw down our weapons.
With the space bar launch, depending on your choice, a sword, a Fireball or a Spiked Cylinder, all three have their own special move, type: the sword will launch straight in the direction that we want, the fireball instead when you Lance tends to fall down, useful to kill those monsters who are holed up in bunker where it is difficult to get in with sword and kill. The third, spiked, will have a sinusoidal, that is going up and down as he goes in the direction that we pulled, useful to hit monsters in awkward positions or impossible to reach with other weapons.
With button CTRL instead we can move the screen without our hero moves, useful for seeing beyond the Visual walk and anticipate the moves of the monsters that are there. Works in all directions and you are using simply by holding down the CTRL key and then pressing a cursor key to view in any direction.
You can save games and reload them later, to save or load a game, use the arrow keys:
F1 = Opens the menu to load a previously saved game.
F2 = opens the menu to save the current game.
F4 = Need to save one Screenhots (an image) in the game folder, where you have installed.
During the game you can pause by pressing the button ESC , you will see a request to quit the game or not.
If before you click Yes, and then quit the game, then you will start the game over.
If at the end of the game your score is among the best then you will be presented with the records with the chance to enter your name.
The adventures are 3:
Another World = Contains 2 levels.
Green Land = Contains 1 Level
UnderWorld = Contains 8 Levels
Our hero
This is our hero, is the same as Ghosts'n Goblins, his movements with the cursor keys are: Left right, Climbs Down the stairs or if you are not on a scale then jumps or cowering. To do launch a weapon use SPACEBAR

The Weapons

Sword

= The sword will launch straight in the direction we want.

Fireball

= Tends to fall down.

Cylinder Bed Of Nails

= Will have a sinusoidal, that is going up and down as he goes in the direction that we pulled.

Energies

Taking one of these objects, it will add the energy of our hero:

| | |
| --- | --- |
| | = Energy + 10 |
| | = + 20 energy |

Power Weapon
This object if taken increases our firepower of a color +1. Nita +1.

Monsters

These are just two of the many monsters that swarm in the game and you have to kill, if we succeed and are of the same number of movement patterns, random, will also focus their pursuers, type, diversity is that it can also fire weapons that beyond the walls and affect you wherever you are.

for every level there will be, as usual, a super Monster also known as Big Boss that you have to kill if you want to finish the level.

Passages Opening

With this key you can open otherwise inaccessible passages, or it could put the stairs where there are, always getting into otherwise inaccessible points.

in some cases it is essential to take these key (keys), in order to get to the end, in others it can also leave but you lose definitely important points and also weapons or power or firepower or more.

End Level
This is the key to end level, when you have killed all monsters including the Boss, can take you to finish the level, in some cases you might even get the key without killing the Boss, when you go to take it nothing will happen because as mentioned earlier must be killed all bosses in the level.
Of course I didn't tell you the whole game, I leave you to discover some little secrets and other types of objects that you will find during your adventure, ah! I forgot there are also secret passages where you will find a lot of things, but I won't tell you what ...
Have fun.
Download
Click download now to get access to the following files:
Ghosts&Monsters.exe
26 MB